For law enforcement professionals and gun owners alike, having a steady hand and true aim is critical when using a firearm. To assist you in developing these traits, in a safe and cost-effective environment, we recommend laser ammo training in Albuquerque, NM.
Double Action Training Academy LLC is on the premises of our Krav Maga dojo. This laser ammo shooting range is ideal for CCW training in Albuquerque, NM, allowing you to familiarize yourself with the likeness of a firearm. This facility is open by appointment only—we invite you to reserve space for a specific time and purpose.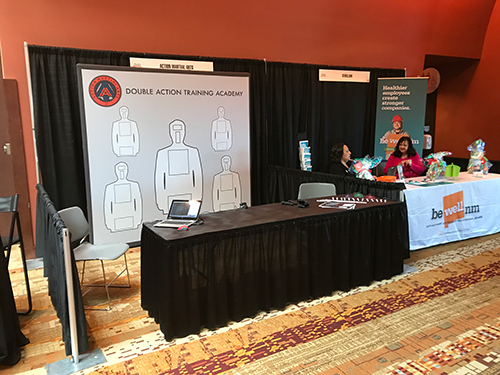 Learning about laser ammo training
Law enforcement and military around the world are using laser ammo for targeting instead of bullets, chiefly because it's much more cost effective and creates a controlled learning environment. With laser ammo, you shoot a beam that's fast enough for cameras to pick up—much like a real projectile. The beam is placed accurately on the target where it was shot, giving you a realistic expectation for marksmanship.
Many people are taught through Krav Maga how to disarm people with guns, but don't actually know how to use one once they've disarmed an attacker! Laser ammo provides a foundation for understanding and can be useful in teaching how to shoot a gun should it ever be necessary for self-defense.
Our facility
Our laser ammo facility has a wide range of physical targets for people to aim at as they're learning firearm control. We encourage you to bring your own firearm to be fitted for laser ammo, or if you don't yet own a firearm, we offer airsoft guns set up for laser firing.
We invite you to book an appointment today to learn proper gun handling and marksmanship at our laser ammo facility. We're open for first-time shooters, as well as those looking for CCW training in Albuquerque, NM. For more information, please give us a call today at 505-507-3827.